Relax at Our Caribbean Beach Resort Pool
Make Waves with the Family.

✦
What could possibly make an amazing resort getaway underneath the Aruban sun even better? How about a number of ways to enjoy the breathtaking Caribbean ambiance? If you would like to take a break from the beach, the Eagle Aruba Resort & Casino features a variety of swimming pools where you and your family can relax, play and have fun. With our three different swimming pools, our courtyard truly has something for everyone. Frolicking in the water, enjoying a sip of your favorite drink, or just taking a refreshing dip in the water… In our amazing pools, everything is possible.
Our comfortable lounge beds are made for relaxing, unwinding and enjoying the ultimate vacation as you have never experienced before. Our hospitable staff is ready to take care of you by providing you with a refreshing drink or your favorite dish from our extensive menu.
Our pools are breathtaking, unique, safe and family oriented.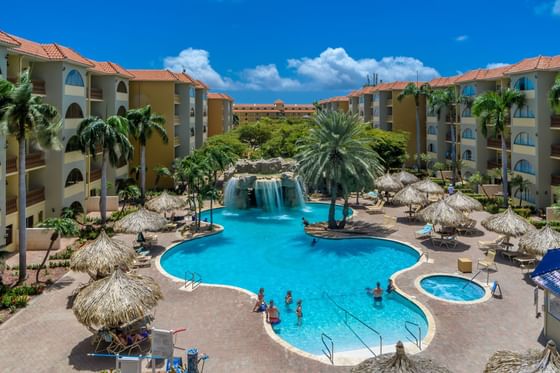 Waterfall pool
If you have come to relax and enjoy a calm atmosphere under the Caribbean sun, the waterfall pool is made for you! The sound of the waterfall and the serene ambiance ensure that you can fully relax.
You can also enjoy the calming jets of our jacuzzi at our waterfall pool, ideal to completely unwind after a busy day in the vicinity of the hotel.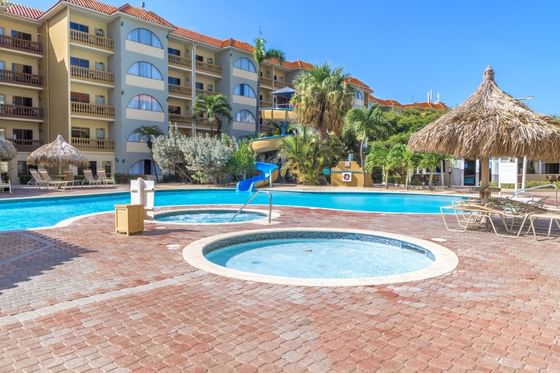 Waterslide pool
During this unforgettable vacation, you will of course make use of our amazing water playground.
True adventurers come out to enjoy our waterslide pool. Experience a swirling sensation as you race through the curves. This swimming pool guarantees hours of water fun for young and old!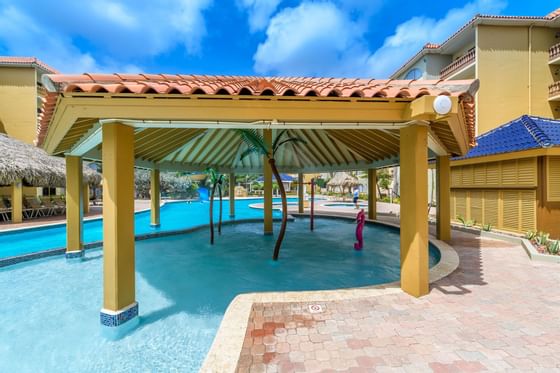 Kiddie Splash Pool
Our kiddie splash pool is ideal for splashing around, playing, having fun together and making new friends. Our kiddie splash pool guarantees a healthy dose of fun and making memories that last. You can enjoy watching your children have the time of their lives playing in the water. A carefree holiday is in the cards with our kiddie splash pool!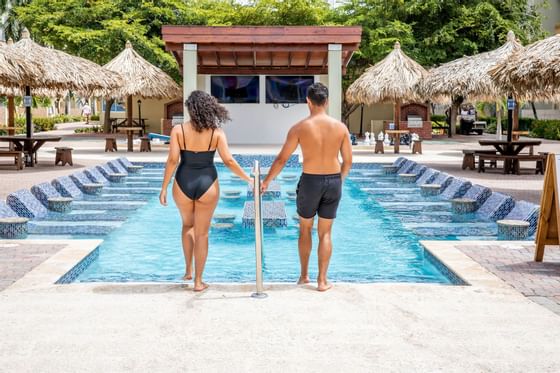 Adult Pool
Enjoy your favorite drink in this lovely swimming pool with integrated sunbeds and bar tables. In our adult pool, everything is possible, and you will experience unlimited fun and entertainment. The pool borders the restaurant and the stage, so you won't be bored for a second. The adult pool is exclusively accessible to guests over the age of 18.