Amenities at Eagle Aruba Resort
Eagle offers an experience you'll never forget.

✦
We have friendly staff that gives local recommendations, we have an Activities Desk & Car Rental Service in-house and so much more.
Amazing Pools
What could possibly make an amazing resort getaway underneath the Aruban sun even better? How about a number of ways to enjoy the breathtaking Caribbean ambiance? If you would like to take a break from the beach, the Eagle Aruba Resort & Casino features a variety of swimming pools where you and your family can relax, play and have fun. With our four different swimming pools, our courtyard truly has something for everyone. Frolicking in the water, enjoying a sip of your favorite drink, or just taking a refreshing dip in the water… In our amazing pools, everything is possible.
Our comfortable lounge beds are made for relaxing, unwinding and enjoying the ultimate vacation as you have never experienced before. Our hospitable staff is ready to take care of you by providing you with a refreshing drink or your favorite dish from our extensive menu.
Our pools are breathtaking, unique, safe and family-oriented.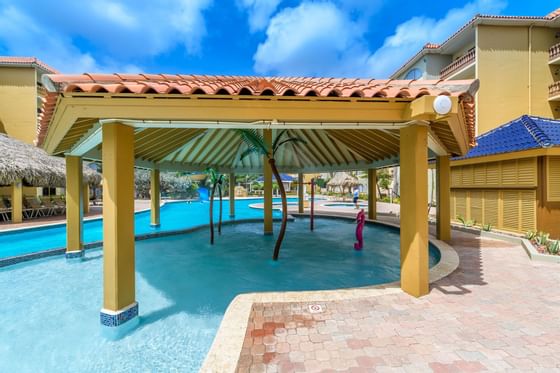 Kiddie Splash Pool
Our kiddie splash pool is ideal for splashing around, playing, having fun together and making new friends. Our kiddie splash pool guarantees a healthy dose of fun and making memories that last. You can enjoy watching your children have the time of their lives playing in the water. A carefree holiday is in the cards with our kiddie splash pool!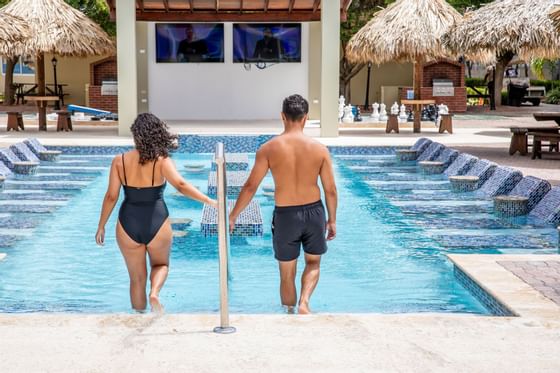 Adult Pool
Enjoy your favorite drink in this lovely swimming pool with integrated sunbeds and bar tables. In our adult pool, everything is possible, and you will experience unlimited fun and entertainment. The pool borders the restaurant and the stage, so you won't be bored for a second. The adult pool is exclusively accessible to guests over the age of 18.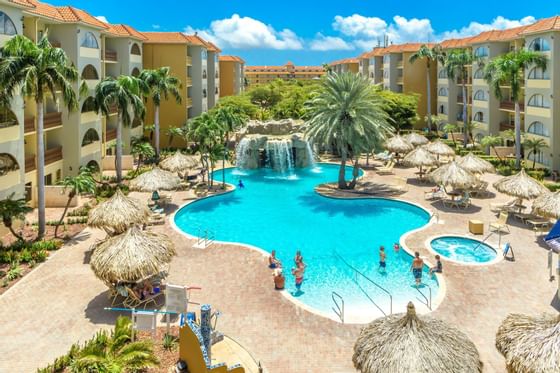 Waterfall Pool
If you have come to relax and enjoy the tranquil atmosphere under the Caribbean sun, the waterfall pool is made for you! The sound of the waterfall and the serene ambiance ensure that you can fully relax.
You can also enjoy the calming jets of our jacuzzi at our waterfall pool, ideal to completely unwind after a busy day in the vicinity of the hotel.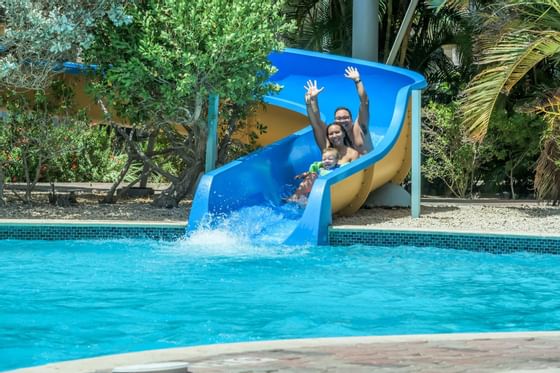 Waterslide Pool
During your unforgettable vacation, your family will love our amazing water playground. True adventurers come out to enjoy our waterslide pool. Experience a swirling sensation as you race through the curves. This swimming pool guarantees hours of water fun for young and old!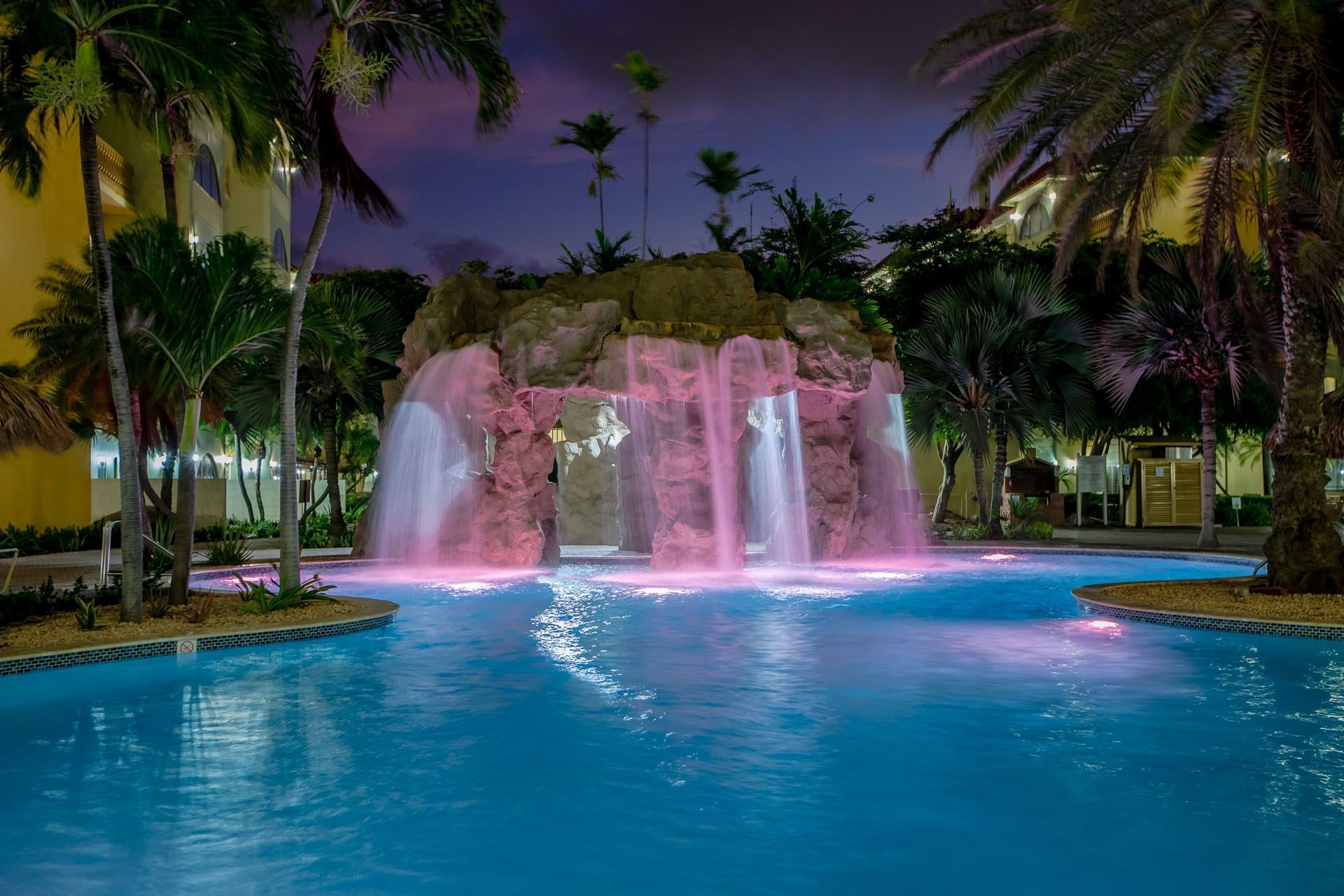 Fitness
Sports enthusiasts can enjoy our lovely morning walk every day of the week. Start your day right and enjoy all the beauty that the area has to offer! Do you prefer to sleep in but still want to do sports? The gym offers the possibility to do your daily work-out."
BBQ Area
You can make a reservation for our BBQ area where you have your own BBQ stand and picnic table. Families come together at our BBQ area to make the most mouth-watering dishes while the children are playing together. This is the perfect way to end a day filled with fun and laughter!
Find everything you need to business travel
Eagle Aruba Resort & Casino is the perfect resort for your next Business Trip or Conference.
Free parking
Meeting Rooms available
Centrally Located
Restaurants onsite
Free & Strong WiFi
Business Travel Friendly
Babysit service on site
Let's face it, no matter how much you love your children, sometimes you want to spend a night with just the two of you. We have created an amazing service where, when you stay in our resort, you can make use of the reliable babysit service. Our experienced babysitters will look after your children while you enjoy a romantic dinner and quality time. We want you to be able to enjoy a carefree time together, knowing your children are in safe hands.
Carefree family vacation with loads of fun
Get your family ready for a fun filled, carefree vacation where everyone has a great time. We offer a large range of entertaining activities for adults, teenagers and smaller children. At the playground we have life-sized games such as chess and checkers, but also bean bag games and a shuffling board. The kiddie splash pool is amazing for the little ones, while the bigger kids can have a blast on the thrilling water slide. When the children are having the time of their life, you can relax with a good book on one of our comfortable sun loungers. The options are endless here at Eagle Aruba Resort & Casino!